Jurassic World: Dominion Dominates Fandom Wikis - The Loop
Play Sound
---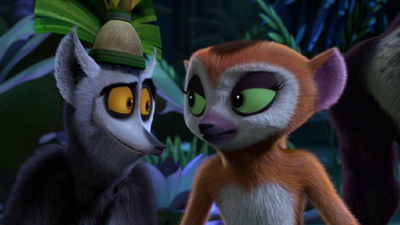 In addition to the Julien and Marlene pairing there is a rumor that King Julien and Clover are secretly in love with each other.
The pairing of King Julien and Clover is called, by some people, Jover, and even though there isn't an episode where they fall in love there are hints in some episodes that they just might be interested in each other.
Personality Clash
[
]
The series spends a lot of time focusing on their development, not just apart but together. Many fans start shipping them by just the first episode.
The first episode is when we get a clear view of their contracting personalities. Clover attacks problems head on, while Julien is still learning how to face them. They meet for the first time in the episode King Me and by the end of the episode, Julien promotes her to Captain of the Ringtail Guard, a title which Clover takes very seriously. Clover responds to this by stating in disbelief of how she has "so many ideas, your uncle never let me implement." Clover is not used to physical affection, but throughout the series we can see her getting more and more comfortable with Julien leaning an arm around her neck or giving her a hug. In later seasons, she even leans up against him or falls on top of him (such as in The Good Book, when she tells Julien a joke.) It gets to the point where she will still attack others for touching her, but not Julien.
Juggling the task of being Julien's bodyguard and Captain of the Ringtail Guard, Clover takes her two jobs very seriously. When danger strikes, she is always the first one to try and face it. She is commonly seen putting an arm in front of Julien to block him from said danger. Although Julien is more interested in fun than safety, she starts to rub off on him and he begins valuing her motivation to protect the kingdom. Julien starts rubbing off on Clover too. She learns the value of fun over fear, a mentality that Uncle King Julien taught her, in the episode Return of Uncle King. Julien is nearly an exact opposite from his uncle. Their relationships with Clover appear to be mirrored.
---
Evidence
[
]
Clover's Hints
[
]
King Julien's Hints
[
]
Other Hints
[
]
Other Photos
[
]