Jurassic World: Dominion Dominates Fandom Wikis - The Loop
Play Sound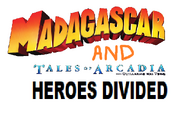 Chapter 10 is the eleventh chapter of Madagascar and Tales of Arcadia: Heroes Divided written by BJtheman.
This chapter is called "Makunga Wins/Goodbye Blinky/Don't Give Up".
Gakere: This is my moment of glory!
(Before Gakere can kill Alex, Blinky jumps between them taking the hit for him)
Alex: No, no, Blinky! No, Stay with me!
Claire: (gasps as she saw Blinky slowly turning into stone)
Makunga: You see, Alakay. you can't win. When I free the Evil Entity and absorb its power, I will destroy you, Arcadia, and the entire world! (Laughs diabolically)
Alex: (gasps as he felt tears well up)
Makunga: Let's Go!
(Everyone watches in horror as the foosa, the Omen blanks, Makunga, Shetani and Gakere depart into the portal to Arcadia)
Alex: (as Blinky groaned, weakly) Blinky....
Blinky: (weakly) Uh........Yes, ......Master Alex........
Alex: You didn't have to take the fall. It was me Makunga and the foosa wanted.
Blinky: I couldn't let that guy kill you.
Alex: I know. Hey, we'll heal you, okay. (sniffling) We'll go get an antidote, or magic, or alien tech or-
Marty: (sadly) Alex....I'm afraid there's nothing w-
Alex: (sadly) No, there's got to be a way, Marty. there's always a way! (to Blinky) Please, tell me you're not dying! Please!
Blinky: (coughs, weakly) I'm sorry, Master Alex.
Alex: (sadly) No...........you can't. Ugh, this is all my fault. If only I haven't become the Trollhunter, then none of this would've happened.
Blinky: (weakly) No, Master Alex. It's just my time.
Alex: Your right, It's Makunga's fault! (pumping his fist throught the air) I will make him pay and vengeance will be mine!
Blinky: (places his hand on Alex's shoulder just as the Creeper's sun was creeping up to his body, slowly) Master Alex.........you're the best of all of us. You're on your way.........just keep going, okay?
Alex: (his tears filling his eyes) I will......
Blinky: (weakly) and one more thing.........
Alex: (sniffles) Huh?
Blinky: I am very proud of you.........my son. (He closes his eyes peacefully and turns into stone)
Alex: (As his tears drizzled down from his cheeks) Blinky, No! No! (sobs)
(As Alex was crying and hugging his lifeless mentor's stone body, AAARRRGGHH!!! is full of deep sadness and rage)
AAARRRGGHH!!!: (growls, then lifts his head up in the sky) RAAAAAAAAAARRRRRRHHHHHHH!!!!!!!!!!! YAAAAAAAHHH!!!!!!!!!!!!! (He threw a huge rock, uncontrollably, making Claire calming him down, AAARRRGGHH!!! cried as he threw another rock)
Melman: (sadly) Easy, AAARRRGGHH!!!
AAARRRGGHH!!!: (sobbing) Blinky.
(Everyone feels distraught and devastated. As he gazed at Blinky's stone body for the first time, the 'King' of New York felt truly alone. Back in the circus near Arcadia Oaks, the zoo animals, the Guardians of Arcadia and their allies mourn Blinky's death)
Varvatos: May the Soolians welcome you and lead you through Seklos' great battlefield. may they sing your name with love and fury. so that we might hear it rise from the depths of Heaven.
(Stefano was crying as Vitaly confronted him)
Varvatos: I know that you've taken your rightful place at the table of gangs. For a wise creature has fallen. a troll..........(softly) a mentor..............a successor........a friend (places his serrator on his chest and stands on one knee)
Skipper: (sniffs) Now, Rico!
(Rico coughs up a firework rocket. it flew across the forest and hits Blinky's deathbed. The explosion happens, causing the deathbed to fly up into the air until it falls down to the ground, shattering Blinky's stone body)
Skipper: (gives a farewell salute) We'll miss you, Blinkous.
(All the penguins join in with Rico humming "Honor the Fallen" theme)
Zadra: Seklos and Gaylen. (Places her hand to her chest) Be with him.
(Gia looks at the depressed Alex and walks over to him)
Gia: Alex?
Alex: (sniffs) I'm not the Trollhunter that he wanted me to be and I'm not the hero I thought I was and I..........I don't know what to do, anymore.
Steve: I'll tell you what we're gonna do, Alex!
Alex: (sniffs) You do?
Steve: I say we destroy that evil lion, his foosas and that monster! and avenge Blinky! (growls) I hate to see anybody die! Merlin, Domzalski, even Blinky! (Screams in fury as he kicks a nearby crate but hurts his foot in the process) Ow!
Aja: Steve, take it easy! Please.
Marty: (walks up to his friend) Alex, when we left the zoo, we had many great adventures during our trip back home. There were problems so frail, so terrifying I feared that we wouldn't make it. But we survived hungry foosas, falling planes, Animal control officers. And you had never, left our side.......
Julien: Except the part where you tried to devour us back in Madagascar.
Marty: Not helping, Julien.
Gloria: Alex, you have done great things so far and No matter how many adventures we go on, we will always be on your side.
Douxie: Not to mention, wizards.
Aja: Akiridions.
AAARRRGGHH!!!: trolls.
Marty: Alex, you have the heart of a lion, the soul of a king, and the dignity of a friend. You are a great friend; a zebra could ever know.
Alex: (brightening up, hugs Marty) Thanks, Marty.
Marty: Yeah, sure. No problem.
Gloria: (wiping away a tear) That's beautiful.
Alex: (turns his head towards his friends) A king always does the right thing. (Imitates Vitaly) And if we defeat horrible demon. 'Ha ha'. So be it.
Vitaly: You copied me!
Skipper: The Alpha lion's right. Let's get to work!
(the "DJ Krel Theme" plays as the heroes gear up)
Mason: Pliers.
Rico: *hacks up pliers*
Mason: Screwdriver.
Rico: *hacks up a screwdriver*
(Mason's work gets soon interrupted by Krel's party music while working on alien tech)
Mason: Akiridion Technology is driving me bananas!
Julien: Who cares, silly monkey. just dance it out. [laughs as he and the other lemurs was getting in the groove]
(At the main bridge of the canals. AAARRRGGHH!!! opens the door to Heartstone Trollmarket with a horngazel)
Stefano: Are you sure, you're not coming, Vitaly?
Vitaly: No. I must stay and keep circus safe. you have Alex. he will protect you.
Skipper: The Russki's right, you know.
Stefano: Okay. wait for me, guys!
Julien: (wraps his ringtail around Sonya's neck) If I don't make it, Sonya. tell my lemurs back in Madagascar about my heroic sacrifice. and also, Stevie will be in charge.
Aja: We promise. to come back to you, my children.
(Maja, Baja, Taja, Faja, Daja, Waja, and Eli Jr stared at their parents, who is about to risk their lives to save the world)
Claire: Hurry, Guys! The door's closing.
(Alex, Marty, Melman, Gloria, Gia, Stefano, the penguins, the lemurs, Aja, Steve, Douxie, Claire, Krel, Varvatos, Stuart, Eli, Zadra and AAARRRGGHH!!! enter Heartstone Trollmarket just as the door closes behind them)
Claire: This place still is horrible after the Eternal Knight War.
Maurice: Yeah, defiantly coach.
(Julien, Maurice and Mort look around the dead Heartstone)
lemurs: *gasp as they saw a shadow of a monster, revealing to be a pile of crystals*
Julien: Okay, this is starting to get a little creepy.
(Two foosas watch the heroes above the rocks)
Marty: (yelps) Something got my leg!
(It was just Mort, holding onto one of the zebra's legs)
Claire: Really, Mort.
Mort: Sorry, I'm so afraid of the dark.
[The foosa appeared from above the rocks. "The Foosa Attack" theme plays]
Eli: (noticing the foosa) Uh, guys?
Steve: (turns around to look at the foosa and shrieks)
Foosas: (snarling)
Stefano: (shrieks as a foosa almost lunges at him) Do not let them take me!
Julien: I really wish Clover was here.
Maurice: Me too!
Marty: GANGWAY!!!
Skipper: EVASIVE MANUVERS!!!
(Alex, Marty, Claire, Douxie and the others run all over the trollmarket as the foosa pursue them)
Douxie: How much further until we can reach the cave?
Melman: Too much running!
Krel: Only one of us could have ordered a getaway mars rover!
Julien: (gets a little worried) Uh, New York Giants....... the foosa are going to massacre us and use my fur as a rug.
Zadra: (wields her Double-bladed Scythe) Get to the cave! We'll distract them!
(The heroes cringe when a nearby foosa almost bites Melman)
Marty: let's go. (flees with the others)
Steve: Pepperjack! (shrieks as Claire grabs his arm, dragging him to the cave) No! Pepperjack! (bawling) He was so young! Why did you let him die, God? WHY?!!!
Alex: Guys, Let's just keep going, okay.
Melman: *get frightened by bats* Agh! What was that?!
Julien: (not noticing a baby vampire bat sucking the blood off the ring-tailed king's back) Relax, long-necked mammal. It was just a horde of scary bats that suck the blood... of..................(passes out)
(Melman watches as the bat flies away)
(Back in the Trollmarket, Zadra, Stuart, Eli and AAARRRGGHH!!! were still fending off the foosas. However, they were outnumbered. Just then, the gang heard a ferocious roar. It was coming from no other than Makunga)
Makunga: (shows up with the Omen blanks, Shetani and Gakere) Well, well, well. If it isn't the last defenders of Arcadia. two humans. a troll, and an alien.
Stuart: Well, technically, I'm an alien from Durio.
Makunga: Whatever. Surrender and your deaths shall be swift. Fight, and you will regret your very existence.
Eli: The only existence we regret is yours!
Stuart: (chuckles) Good one.
Makunga: Very well, then.
Zadra: Makunga. Think about what you're doing!
Makunga: (chuckles) You think I'm a fool? when I unleash the Evil Entity and use its power, I will destroy your good friend, Alakay and his father, Zuba and enslave the lion pride. As well as destroying Arcadia and the entire world.
Zadra: NO!!!
(The foosa tie her up along with AAARRRGGHH!!!, Eli and Stuart and depart along with Makunga and his army)
Stuart: It's no use! we're finished!
Zadra: We can't give up hope, Stuart. we need to find a way to free ourselves.
Stuart: Forget it. that evil kitty's going to unleash the demon and destroy Earth.
Zadra: Well, there has got to be a way.
Eli: (thinks, then brainstorms an idea) Hey, Zadra. your scythe!
Zadra: (gasps) Seklos and Gaylen, There really is a way! AAARRRGGHH!!!, see if you can reach my weapon and free us all.
AAARRRGGHH!!!: Hmmmm........ Okay. I try. (Tries to reach Zadra's weapon with his foot)
Eli: (muttering) Come on, come on.
(Luckily, AAARRRGGHH!!! was able to reach Zadra's double-bladed Scythe and use it to free himself)
Stuart: Yay! Way to go, you big brute!
Zadra: Free us, next!
(Meanwhile, Alex, Marty and the others were still searching for the sarcophagus)
Marty: (sees the crystal sarcophagus) We've found it!
Melman: Can we please destroy the beast and save the world? I am getting the heebeejeebees.
Maurice: That was my line, Melman.
Melman: Sorry.
Douxie: We reached the sarcophagus. What are we going to do with the beast?
Evil Entity: (from inside the sarcophagus) Open the sarcophagus.......
Skipper: Fish Sticks! the sarcophagus's alive! Battle stations!
(The penguins make a karate move)
Evil Entity: (from inside the sarcophagus) Open the lock........and set me free............
Marty: No way. We ain't here to set you free. We are here to destroy you!
Evil Entity: (from inside the sarcophagus) Destroy me? Never. you have no choice. This is your destiny.
All: (gasp)
Steve: Is the evil doer telling the truth? because I hate evil doers! Morando! Bellroc! Makunga!
Aja: When this is over, everything will go back to normal, and we will avenge Galadrigal. Alex, destroy the monster!
Alex: with pleasure. (Before the lion can destroy the sarcophagus, the heroes heard a voice)
Makunga: (shows up with Gakere, Shetani, the foosa and the Omen blanks) You'd miss me?
Marty: Makunga?
Julien: Seriously. showing up uninvited to a rave party. (Crosses his arms) How rude.
(An Omen blank grabs the lemur king's tail)
Julien: (shrieks) Put me down, alien robot!
Omen Blank: No way!
(the Omens and foosas corner the Zoosters and the Guardians prisoner, while Makunga walks over to the sarcophagus)
Alex: Makunga, please! you'll kill us all! Don't do this!
(Makunga ignores Alex's cries and opens the sarcophagus)
Evil Entity: At last. I am free. (Pours out of the sarcophagus)
Mort: I'm too adorable to be eaten! (Hugs Julien's feet and wails)
Julien: (worried) Yes, Keep touching the feet, Mort. Keep touching the feet!
(The monster rose higher and higher)
Makunga: (grins evilly)
(Our heroes stared at the monster, with fear in their eyes)
TO BE CONTINUED............