Can I join
[
]
CAN I JOIN Babies Of Madagascar!! Rusty392 - December 17TH MY Birthday!!! 15:41, April 24, 2011 (UTC)
Sure.
MysteryGirl
[
]
I'm not sure it's a good idea to put my world with another, but I'd like to enter the contest for episode 91. Say my character (Julien's long-lost, know-it-all twin sister, Duchess Lucinda... hiding even from him as her alter-ego, "La Phantasma") purposes to settle the who's-telling-lies scenario with a ritual that involves the Native American story-stick game (seeing this is a storyteller's contest itself). Though there are prizes for most imaginative, most creative, most elaborate, etc., the real winner was the one most likely to be telling the truth. - MysteryGirl 02:43, May 15, 2011 (UTC)
My Entry For Epi 91!
[
]
Here's My Entry For The Babies of Madagascar Comic Strip Contest!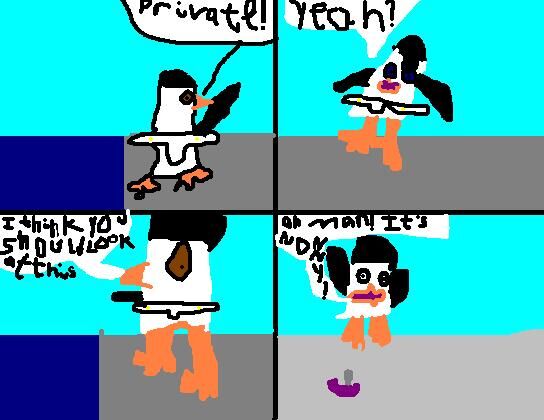 BAM! Huh? Huh? You Got It! 22:53, May 31, 2011 (UTC)
EOA-Red
[
]
I have changed the EOA to red on all articles in the Babies-Series category and True Logged With Me -- By: Cardsharks87. Let me know if I missed any.
Crossover
[
]
Hello I am the creator of the "Under 7s" show and I thoght maybye we could have a crossover between your show and mine. Maybye one of the babies from your show could go in Baby Kowalski's time machine and end up going a few years forward in time to when my show is set and meet thier older self. Prehaps then Baby Dr.Blowhole is teaming up with Major Squirrel and only the good guys can stop them!!!POMfannumber1 (talk) 13:03, January 6, 2013 (UTC)